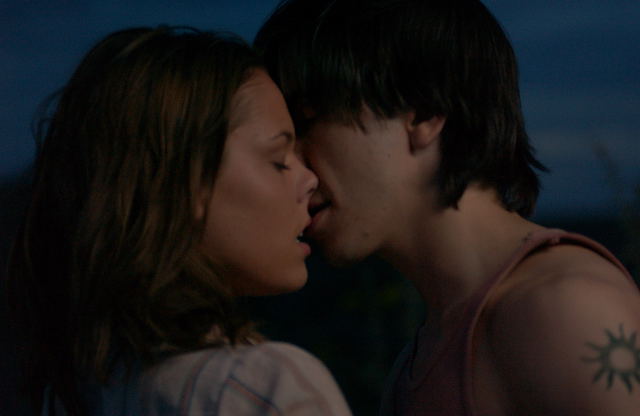 Justin Long (Mookie): A potent combination of charm and charisma, Justin Long is rapidly rising as one of Hollywood's top young actors. Born in Fairfield, Connecticut, Long attended Vassar College where he was a two-year member of the acclaimed sketch comedy group "Laughingstock." He then emerged onto the scene as Warren Cheswick on NBC's critically acclaimed "Ed." Long soon sent shivers down the spine of audiences with his starring role in the 2001 box office hit "Jeepers Creepers." He also shared the screen with Britney Spears in her feature-film debut "Crossroads." His other film credits include the Daniel Waters satirical comedy "Happy Campers," "Galaxy Quest" with Tim Allen and Sigourney Weaver, and the independent feature "Raising Genius" with Wendie Malick and Stephen Root.

Last year, Justin joined Ben Stiller and Vince Vaughn in the 20th Century Fox comedy "Dodgeball: A True Underdog Story." As the high school student who dreams of making the cheerleading squad, Justin painfully and comically helps in winning the big dodgeball tournament. Prior to Dodgeball, he also provided the voice for "Dwayne" in Bill Plympton's animated feature, "Hair High."

This year alone he undertook seven different film projects. Long can currently be seen playing "Dean", a four year waiter, opposite Ryan Reynolds and Anna Farris in the Lions Gate feature, "Waiting." This past summer he served as the love interest of Lindsay Lohan in "Herbie: Fully Loaded," Disney's latest incarnation of their successful love bug series. Justin will also be seen in "Dreamland," set to premiere at the 2006 Sundance Film Festival, and "Idiocracy," written and directed by Mike Judge and starring Luke Wilson, Maya Rudolph and Dax Shepard.

Set to be released in February of 2006 is the much anticipated romantic comedy, "The Breakup," in which Justin shares the screen with Jennifer Aniston and is reunited with his "Dodgeball" co-star Vince Vaughn. He recently wrapped production for the Steve Pink film "Accepted" in which he stars as a high school senior who creatively schemes against his parents in an attempt to avoid college. Finally, Long has also completed shooting "The Sasquatch Dumpling Gang," a comedy produced by Kevin Spacey and Jared Hess, who wrote and directed "Napolean Dynamite."

Sundance Movie Review (Thursday, January 26 2006)
This beautifully shot film tells the story of three teens living in "Dreamland," a small trailer park in the deserts of New Mexico.
The scenery is breathtaking and the performances are great. Agnes Bruckner stars as the young poet, Audrey, who feels tied to the trailer park by her need to care for her troubled alcoholic father (John Corbett). Kelli Garner is a want-to-be beauty queen who's been diagnosed with MS. Justin Long takes a break from his goofier roles (DODGEBALL) and plays basketball star, Mookie.
The cast all got pretty goofy during my interview with them though. When I asked about their thoughts while watching the premiere, Kelli commented that she couldn't keep her eyes off of her chest during some of the hot tub scenes. Meanwhile, Justin was busy shoving marbles up his nose and pretty soon Kelli joined in too. Agnes was having a blast during her second year at Sundance, and has been accumulating some pretty cool swag. I taught all three of them to play one of my favorite games, "Pass the Pigs," (http://www.winning-moves.com/products/pigs.htm).
Agnes caught on fast and was very happy when I told her she could keep her pigs. Justin and Kelli were slightly more confused, but were just as happy to walk away with their new porcine pals.
(This Sundance Review comes from Boaz Frankel, executive producer and host of Offbeat Entertainment, and was contributed to the site by our friend Xioma.)
Boaz Frankel, Kelli Garner, Justin Long
Copyright © 2006-2010 Rosie Trenta.
All Rights Reserved